Events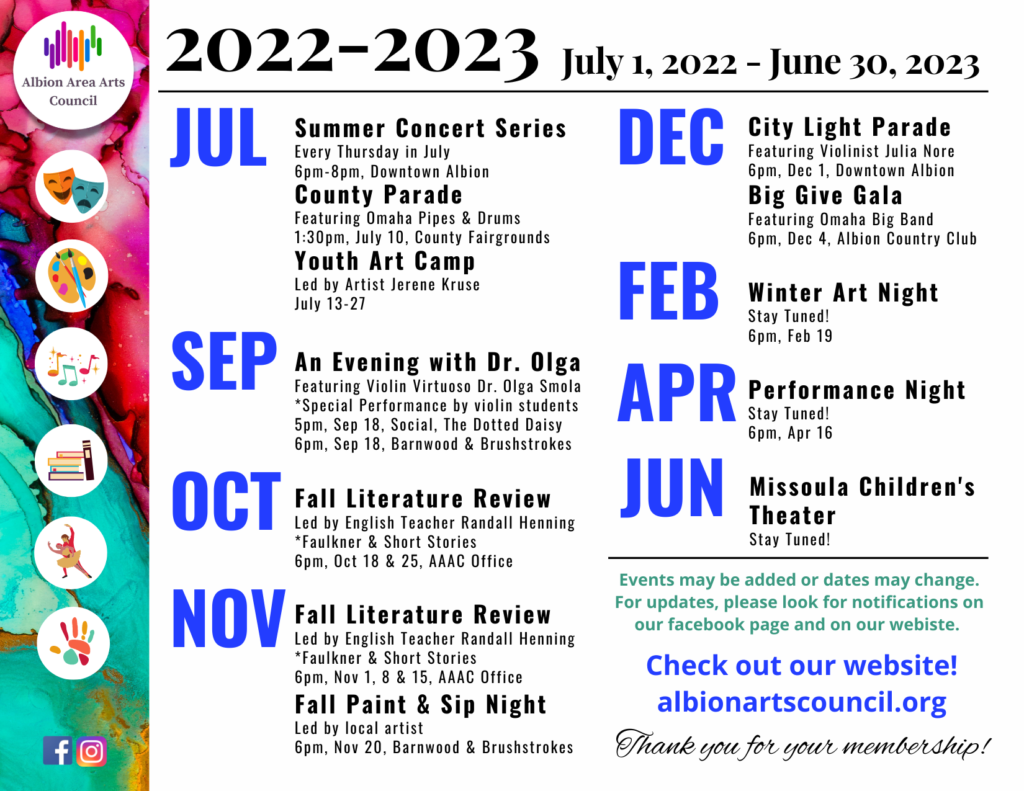 September 18, 2022
An Evening with Olga Smola, Violin Virtuoso
When: Member Social at 5pm, Performance at 6pm
Where: Member Social at the Dotted Daisy, Performance next door at the Barnwood & Brushstrokes Art Studio
Cost: $20 at the door or purchased online here Buy now
2022-2023 Members get in free
About the Artist & Event:
Dr. Olga Smola: A versatile violinist, Olga Smola plays solo and ensemble performances in many different styles of music including classical, jazz, rock, country and electronic music as a violin DJ. Music has taken Smola around the world. Her solo touring credits include concerts in Monaco, Spain, Belgium, Croatia, France, England, Azerbaijan, the United States, and throughout the Russian Federation. Since August 2016, Smola has served as a professor of music at the University of Nebraska at Omaha (UNO).
Violin Workshop: Olga will conduct a 1 hour workshop with local violin students from 1pm-2pm. The students will provide the audience with a special performance during Olga's evening performance at 6pm.
Member Social: Before the performance, join us for coffee or your chosen drink at the Dotted Daisy. From 5pm-6pm you will be able to chat with Arts Council leadership and mingle with members. If you are not a member, that's ok! You will be able to sign up for an annual membership during the social hour.
Performance: Olga offers a 1 hour performance unlike any other you've experienced. From 6pm-7pm, she will play a variety of music, including cover songs you'll recognize. Olga is an exceptionally talented violinist who you won't soon forget.
*Funded in-part by the Nebraska Arts Council
*Co-organized with Barnwood & Brushstrokes and the Dotted Daisy
More to Come!!